{department.name}
Please note: By clicking on the links below you will be directed to a new webpage. Please be advised that not all products shown on external sites are available through Builders Supply Co., Inc. Contact our Department Sales Team for the most current inventory.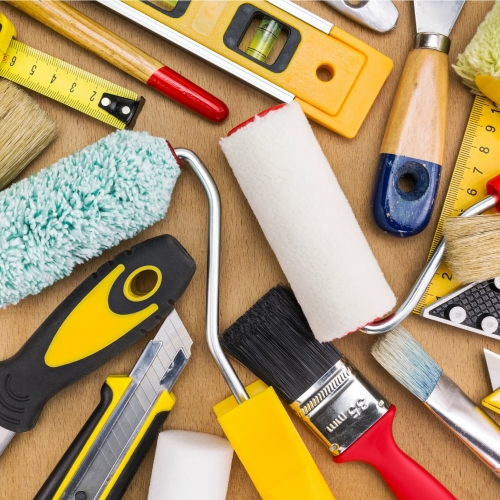 Home Center
Builders Supply's Home Center carries everything you need for any home project. Whether you are a weekend warrior, handyman, independent contractor or commercial builder, we have the materials, tools, caulks, paints, ladders and anything else you will need to get that project completed. Best of all, you won't have to run here and there, because we are your one stop shop for all your home project needs.
Tools and Belts
Hammers, Screwdrivers & Nutdrivers
Saws, Knives & Blades
Pliers & Adjustable Wrenches
Sawhorses, Clamps & Vices
Measuring & Electrical Tools
Finishing, Chisels & Nail Sets
Layout Devices
Demolition Tools
Mechanics Tools
Illumination
Power Tools
Drywall & Gripper Tools
Masonry Tools
Belts, Buckets and Aprons
Wet/Dry Vacuums
Extension Cords
Fasteners
Grip-Rite
FastenMaster
Ramset
Bath & Kitchen Plumbing
Bath Tubs & Wall Kits
Bath & Shower Faucets
Bath Accessories
Bath Vanities & Tops
Showers & Shower Doors
Kitchen Faucets
Kitchen Sinks
Kitchen & Bath Fans
Laundry Tubs
Lavatory Faucets
Lavatories
Pedestal Sinks
Special Order Items
Toilets
Whirlpool Tubs
Plumbing Repair Parts
Paint & Accessories
Glidden Interior & Exterior
Caulks, Glues & Sealants
Clear Finish & Varnish
Concrete Cleaner & Repair
Drywall Muds & Tools
Epoxies & Lacquers
Exterior Stains
Finish Repair & Patching Materials
Interior Stains & Finishes
Ladders
Rollers, Brushes & Extenders
Solvents
Water Proofers
Sandpaper & Accessories
Home Enhancement
Storm Doors
Basement Doors & Egress
Custom Shutters
Standard & Tubular Skylights
Drainage Systems
Fireplaces
We are constantly adding new specials to our site. Be sure to check back often!
Sign up for our Email List
Stay updated with all our latest posts, products and offers! Just enter your information below.